Jam Schedule

Upcoming Meetings rotating between
Different Libraries!
Note that times are an hour later on Sept 16 & 30.
9/29/22
​
Reminder. Dulcimer Jam Friday afternoon 9/30/22 from 3:30 to 6 pm. At the North Spokane . Slow jam the first hour.

The next jam will be Friday, Oct. 14th from 3:30 to 6 pm, also at the North Spokane
Ed
​​
Other instruments, played along to our dulcimer tunings, welcome!
​
If you have any questions please don't hesitate to contact Ed:

Contact Page or call me at five-0-nine eight-6-three two-one-2-one
​
- - - -
Let us know if you are not on our e-mail list, and would like to be added! We email reminders about jams and occasionally information about concerts or workshops online that might be of interest to our members.
​
27 Years of Celebrating Our Cultural Diversity
Two Days of Family Fun.
The Event & Parking are FREE!

November 12 & 13, 2022
Saturday - 11 am to 8 pm
Sunday - 11 am to 5 pm
​
Spokane Community College
The Lair
1810 N Greene Street
Spokane, WA 99217
​
The Spokane Dulcimer Guild will provide a workshop
Nov. 12 from 12:30 TO 1:30 pm
in the Lair Conference Room
​
Tumbleweed Music Festival 2022

Was LIVE in Richland, WA Sept. 2-4, 2022
Check out the Virtual Festival
QuaranTUNE 8.0
October 6-9, 2022
An online event with
workshops, concerts,
vending, and more!
Registration is open!
www.virtualdulcimerfest.com
The 10th Annual Dulcimer Week in the Wallowas
was held July 3-9, 2022

Spokane Dulcimer Guild members in attendance included Ed Day, John Hedrick, Joanne Heinz, Debbie Smith, and Karen Robertson.
​
Instructors were Bob Webb, Susan Trump, Jeff Furman, and Dave Haas. Read about camp at www.wallowadulcimer.com.
Plan to attend the 11th Annual Dulcimer Week at Wallowa Lake, July 2-8, 2023!
A Note from Heidi Muller
My new website is up and running with all new content, songs, lyrics, videos and more! Many thanks to my webmaster Janis Carper for setting it up and helping me learn how to update it. Take a look at www.heidimuller.com.
​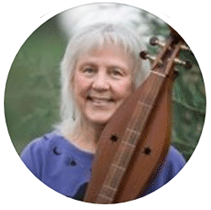 SDG Jam on March 18, 2022
​
​
Dulcimer Players News
August 2022
Dulcimer Players News Vol. 48, No. 3 is hitting mailboxes!!
It includes "A summer's worth of reading, watching & listening!
DPN Is a quarterly print magazine, where you will find sheet music, tablature, articles by musicians for musicians, and the tales and traditions linking the past to the present.
​
The DPN website also has a great
Festival Listing Page!!
Check out Heidi Muller's article on the harp dulcimer built by Spokane Dulcimer Guild's own John Hedrick and Ed Day is on pg. 30-31 of the February 2022!
​
Carol Walker's newest book is now "officially released" and ready to ship. Available as a print copy or digital download. Purchase includes full set of downloadable MP3s. 130 pages with standard notation and easy-to-read large print tab. Suitable for ensembles of all sizes and for players of every level.