Jam Schedule

Currently Meeting in the
Events Room at the Hillyard Library
North end of the Shaw Middle School &
Hillyard Community Campus
4110 N Cook St
7/21/22
Hi Everyone
Reminder. Dulcimer Jam Friday afternoon 7/22/22 from 2:30 to 5pm. At the Hillyard Library. Slow jam starts at 2:30
Ed

Click Here for Jam Information!
2:30 - 5:00 PM

FRIDAY, June 22, 2022
FRIDAY, August 5, 2022
FRIDAY, August 19, 2022
​
Other instruments, played along to our dulcimer tunings, welcome!
​
If you have any questions please don't hesitate to contact Ed:

Contact Page or call me at five-0-nine eight-6-three two-one-2-one
​
​
- - - -
Let us know if you are not on our e-mail list, and would like to be added! We email reminders about jams and occasionally information about concerts or workshops online that might be of interest to our members.
SDG Jam on March 18, 2022
The 10th Annual Dulcimer Week in the Wallowas
was held July 3-9, 2022

Spokane Dulcimer Guild members in attendance included Ed Day, John Hedrick, Joanne Heinz, Debbie Smith, and Karen Robertson.
​
Instructors were Bob Webb, Susan Trump, Jeff Furman, and Dave Haas. Read about camp at www.wallowadulcimer.com.
​
Spokane Fall Folk Festival
The Fall Folk Festival is Virtual for 2021. Performances are be available on the festival website and will be available until the end of the year.
2021 Fall Folk Festival Performers
​
A Note from Heidi Muller
My new website is up and running with all new content, songs, lyrics, videos and more! Many thanks to my webmaster Janis Carper for setting it up and helping me learn how to update it. Take a look at www.heidimuller.com.
​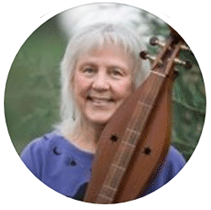 Check out the Feb. Issue!
​
Dulcimer Players News
Heidi Muller's article on the harp dulcimer built by Spokane Dulcimer Guild's own John Hedrick and Ed Day is on pg. 30-31!
DPN Is a quarterly print magazine, where you will find sheet music, tablature, articles by musicians for musicians, and the tales and traditions linking the past to the present.
​
The DPN website also has a great
Festival Listing Page!!
​
Carol Walker's newest book is now "officially released" and ready to ship. Available as a print copy or digital download. Purchase includes full set of downloadable MP3s. 130 pages with standard notation and easy-to-read large print tab. Suitable for ensembles of all sizes and for players of every level.