Jam Schedule
​
9/21/23
Note that the next couple of Jams are at the ARGONNE Library!
​
​
Next Jams - 3:30 - 6:00 PM on;​​​​​​​​​
Anyone is welcome to our jams! Usually, we try to get together twice a month on the first and third Friday.
​
The first hour of our jams is paced for novice or even brand new dulcimer players!
​
If you don't have a dulcimer, come anyway as John and Ed usually bring an extra or two. If you play another instrument we would love to have you join us.
​
If you have any questions please don't hesitate to contact Ed:

Contact Page or call Ed at five-0-nine eight-6-three two-one-2-one
​
- - - -
Let us know if you are not on our e-mail list, and would like to be added! We email reminders about jams and occasionally information about concerts or workshops online that might be of interest to our members.
Registration open till 4 PM PT -
Saturday, Sept. 23td.
LIVE Online Concerts, Workshops,
& Vending.
At only $10.75 apiece, this would be a great time to try out a new instructor, stretch a little further in your class choices, or build your repertoire. With over 70 instructors, there's something for everyone! There are even classes in other instruments. Register at www.virtualdulcimerfest.com.
One concert ticket covers ALL five of the concerts, live streamed, from Thursday, Sept. 28 to Sunday, Oct. 1. The cost is $25.75. The variety of music among the instructors is amazing! As above, you can pick up your ticket now through Oct. 1 at www.virtualdulcimerfest.com.
SDG Jam on March 18, 2022
November 11 & 12, 2023

At the Spokane Community College.
The Spokane Dulcimer Guild is scheduled to play on Saturday, November 11th.
Watch for details on the
Spokane Fall Folk Festival Website
​
The Spokane Dulcimer Guild Booth
at the Nov. 2022 Spokane Fall Folk Festival.
A Note from Heidi Muller
Visit my website for new content, songs, lyrics, videos and more!

Many thanks to my webmaster Janis Carper for setting it up and helping me learn how to update it. Take a look at www.heidimuller.com.
​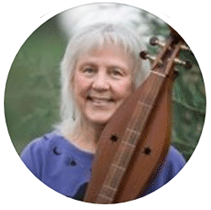 How John Hedrick and Ed Day built their 12-string harp dulcimer, featuring "Finlandia" played on it by Heidi Muller.
Tumbleweed Music Festival 2023

The Tumbleweed Music Festival is a free, open-air, community acoustic music festival sponsored by the Three Rivers Folklife Society traditionally held on Labor Day weekend each year at the Howard Amon Park in Richland, Washington The 2023 festival will be our 27th annual! We feature many kinds of acoustic music (primarily folk, blues, bluegrass, etc.) but are welcoming to all types of music and dance performances.
​
​
Dulcimer Players News
August 2022
Dulcimer Players News Vol. 48, No. 3 is hitting mailboxes!!
It includes "A summer's worth of reading, watching & listening!
DPN Is a quarterly print magazine, where you will find sheet music, tablature, articles by musicians for musicians, and the tales and traditions linking the past to the present.
​
The DPN website also has a great
Festival Listing Page!!
Check out Heidi Muller's article on the harp dulcimer built by Spokane Dulcimer Guild's own John Hedrick and Ed Day is on pg. 30-31 of the February 2022!
​